Innovative Production team achieved significant success with the "Three Men and Aunt" TV series. The premiere was on February 21. 2021 on TV PRVA in situation comedy genre, which for the first time shows the world from the perspective of males who struggle with life and women's rules and are often not to blame for all the drama happening in life, but they are eternally guilty in the eyes of women, especially in the eyes of their aunts, let alone their partners and wives. "Three Men and Aunt" series is showing the problems of the modern man through humor that no one could resist. Hilarious 150 episodes, starring Marko Janketić, Jelisaveta Seka Sablić, Milan Vasić, Petar Božović, Svetlana Bojković, Hristina Popović, Branko Vidakovic, Marijana Mici, Branko Jankovic, Teodora Bjelica and many others, became the first Serbian comedy based on the famous series "Two and a Half Men", created by Chuck Laurie and Lee Aronson. The Serbian version of "Three Men and Aunt", seasoned with original domestic humor, is signed by the innovative producers Nikola Burovac and Danijel Djuric.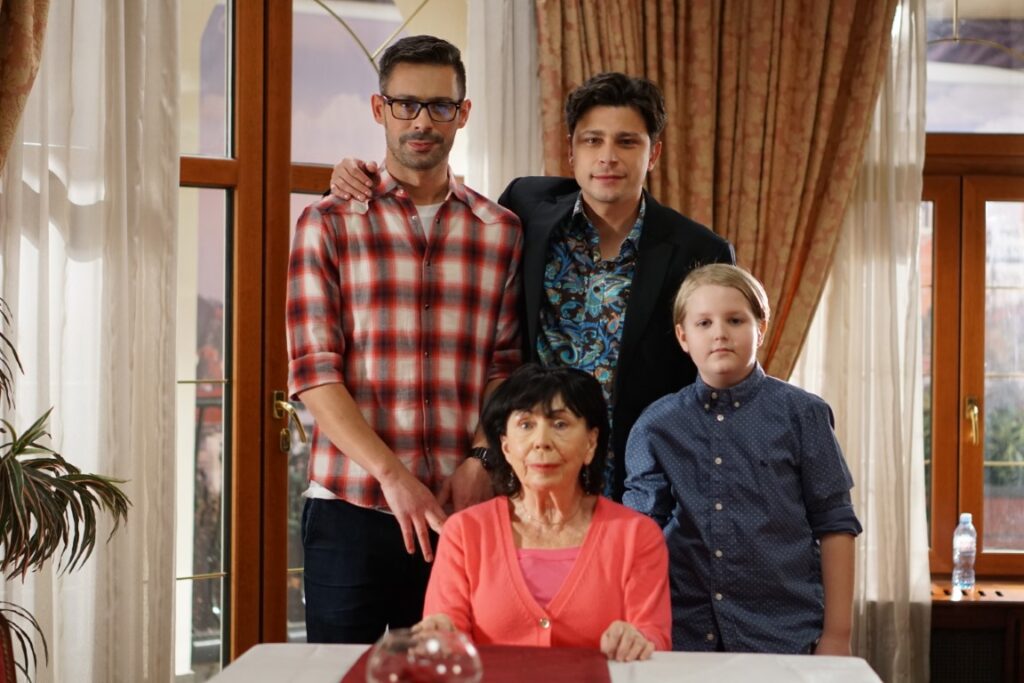 Type: Series
Genre: Comedy
Premiere: 21.02.2021
Broadcasting: TV PRVA
Number of episodes: 150
Living while avoiding responsibilities is shown in a humorous way through the relationships of two brothers Joviša and Ljubiša and their aunt Milka, who is like their mother. Fake and true love, quarrels, scheming, intrigues, the consequences of failed businesses are just a part of their family relationships. Everything aunt Milka, Ljubiša and Joviša come up with will affect the rest of the household who are financially or in other ways threatened by their projects. Everyone in the series wonders if the aunt is hiding some money in Cyprus and where the pensioner got the 600 square meter villa from. By the way, the aunt is a former highly ranked official of SPS(Socialist Party of Serbia) and a former director of the National Bank. By the way, she is the financier of all the whims of her cousins, whose crazy business ideas she cannot reject out of weakness and love for them. Ljubiša is the owner of the well-known dating website "Ljubavisanje". In the city, Ljuba is known for getting with different girl every night, throwing unforgettable parties and of course not wanting to get married ever. His opposite is his brother Joviša, who is alone with his nine year old son. They get into various funny situations. Men want to stay under their aunt's roof because they realize they are not capable of leading a normal life. On their path to their independance, something always gets in the way and backfires in funniest possible way.